Durable, Cost-Saving &
Energy-Conserving
Polyurethane spray foam insulation provides the ideal solution for durable and cost-saving energy-conserving insulation applications in all types of buildings. Spray foam insulation combines the benefits of insulation and air barrier systems crucial to the environmental control within commercial building structures.
To control factors such as heat, air, and moisture within a building envelope, there must be insulation of a continuous nature so that gaps in insulation do not allow for a compromise that leads to material failure. Spray foam insulation or SPF insulation effectively insulates and, most importantly, controls moisture infiltration, the number one cause of commercial building deterioration.
Polyurethane spray foam insulation is easily applied within the building envelope, regardless of difficult structural limitations such as cathedral roofs, irregular masonry, or band joists areas. High-density roofing and insulation urethane foam was tested and proven effective in 1997 by the Oak Ridge National laboratory, Buildings Technology Center. ORNL applied three-quarters of an inch of high-density SPF between studs with a one-half inch over metal studs when testing whole and clear wall SPF between metal stud walls. Results proved that the polyurethane wall insulation material significantly reduced the normal thermal bridging effect inherent with the use of metal studs!
Foam insulation has the additional tested benefit of actually adding structural strength to commercial buildings. Testing that was prepared by an independent testing company and presented to the Society of The Plastics Industry in 1991 confirmed that spray foam insulation properly sprayed and applied to insulate the areas between wood and steel stud wall panels increased racking strength by an incredible 50%. Structures in hurricane and earthquake-prone areas that are braced with foam insulation have proven strength to resist design racking events that can damage a structure and expose it to moisture damage.
Benefits of spray foam technologies are shared by both the business owner and workers, as energy-efficient spray foam insulation helps eliminate drafts and provides improved humidity control due to its closed-cell structure, which is impervious to moisture and reduces dust and pollen allergens within the structure. A more comfortable working environment is shared by all, with the additional benefit that the combination of high insulation values and air and moisture barrier features enable the downsizing of the heating and cooling equipment in a building. This reduces the cost to efficiently provide heat and cooling- a difficult task to manage in many multi-seasonal areas.
Energy efficiency surveys prove that commercial buildings can realize up to 40% energy saving by using SPF foam over traditional insulation materials, thus reducing the burning of fossil fuels for energy needed worldwide and, most importantly, reducing the CO2 emissions that damage our world's environment. Another benefit of SPF that positively affects our environment has been identified in that the total energy requirements for the manufacture of plastic products are less than those involved in the manufacture of their alternatives. Studies have proven that polyurethane foam insulation saved 3.4 trillion BTU's in manufacturing energy as opposed to fiberglass insulation production in 1990, thus reducing the need for the burning of approximately 170,000 barrels of oil or one billion cubic feet of natural gas!
Reflective roof coatings offer increased roof product life, as they maintain a constant temperature; thus, thermal shock is reduced, and since the roof does not expand and contract, less stress and degradation occurs. Foam roofs have been in place and extensively tested for more than 30 years, and when properly maintained and sealed, they should be able to last indefinitely!
When less heating and cooling is required to keep a commercial building comfortable for its inhabitants, not only does the owner or property manager save money, but the environment also is served as fewer fossil fuels are depleted when commercial consumer demand is less. Kohls Foam Systems reflective roof products meet the Environmental Protection Agency (EPA) specifications for reliability and solar reflectance and have the ENERGY STAR label.
Many commercial and industrial accounts across the nation are even eligible for rebates from their municipalities and utility providers when they install lightweight, seamless, amazingly strong, and energy-efficient foam roofing.
Bongards Creameries (Bongards, MN)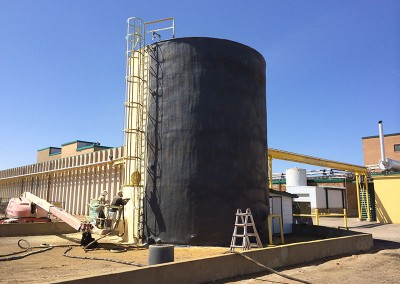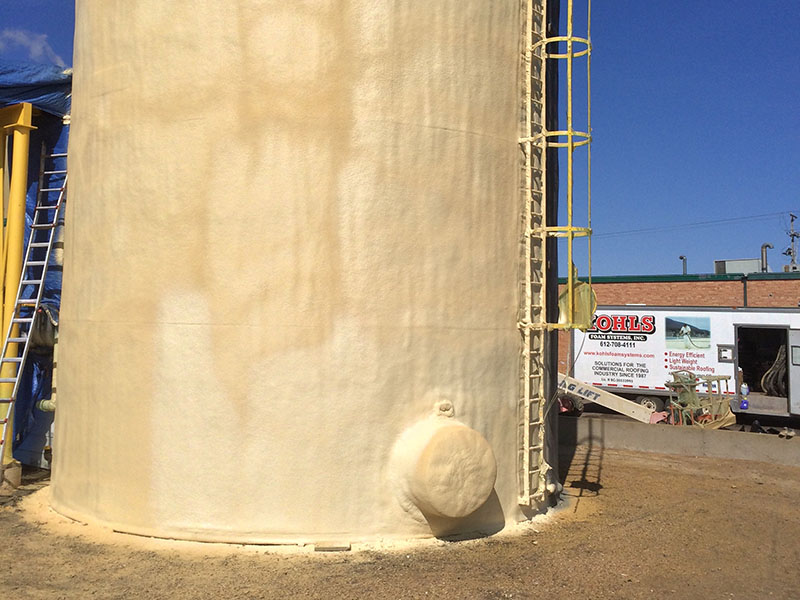 Spirit in the Pines Church Camp (Hackensack, MN)